Chemnitz and Sendai cooperate to build up a Fraunhofer Project Center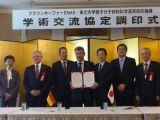 The director of the Fraunhofer-Institute for Electronic Nano Systems ENAS Professor Thomas Gessner as well as Professor Yoshinori Yamamoto from the Tohoku University in Sendai and Dr. Georg Rosenfeld from the Fraunhofer-Gesellschaft signed a memorandum of understanding concerning an exchange of German and Japanese researchers on November 7, 2011. The memorandum also includes the vision of a Fraunhofer Project Center, the "Fraunhofer Project Center NEMS / MEMS Devices and Manufacturing Technologies at Tohoku University". The mayor of the city of Sendai and the president of the Fraunhofer-Gesellschaft attend the solemn signing.
The Chemnitz researchers cherish the relations to their Japanese colleagues for more than ten years. Already in 2005, the Fraunhofer-Gesellschaft and the City of Sendai have signed a cooperation contract pushed by the Fraunhofer representative office in Tokyo and the Fraunhofer ENAS. In 2008 a research group was established at the Tohoku University and is managed by Professor Gessner. The researchers of this group work on applications of new materials in the microsystems technology. Thereby, nano porous materials and their application for low-temperature wafer bonding processes are investigated. The material characteristics of metallic glasses as functional materials in microsystems technology is another focus of the research. On a regular basis German scientists will stay for some months in Sendai. In this way the group will be strengthened and be empowered to cooperate with industrial clients in applied research.