German project for condition monitoring of power lines is presented at the Sensors Expo and Conference in USA
Fraunhofer ENAS and the Center for Microtechnologies ZfM of Technische Universität Chemnitz show an autonomous sensor network for monitoring of power lines as one highlight at the Sensors Expo & Conference 2014 in Rosemont, USA. The Fraunhofer ENAS and ZfM together with its partners InfraTec GmbH as well as GEMAC mbH present their developments, technologies and products in the field of MEMS, sensors and smart systems integration on June 25 and 26, 2014.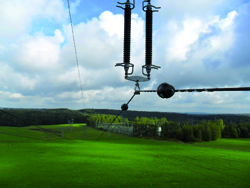 Power line monitoring is one of the important questions for smart grids. Now a smart system for condition monitoring is presented by the Fraunhofer Institute for Electronic Nano Systems ENAS and the Center for Microtechnologies of Technische Universität Chemnitz at the Sensors Expo 2014. A German consortium of nine project partners has developed this monitoring system. The ASTROSE® system allows a decentralized monitoring of high-voltage transmission networks using autonomously working sensor nodes. Each node contains electronics, sensors and antennas. All components are powered by the electrical fringing field that surrounds the conductor wires. The integrated sensors measure the key parameters – inclination of the power lines, temperature, current and oscillation caused by wind movement – determining a cable's maximum throughput.


An ultra-low power micro controller collects the data from the sensors and controls the radio transceiver for the wireless communication in the 2.4 GHz ISM frequency band. Every 15 minutes, all data are wirelessly transmitted along the power line to the transformer station. There the data are fed in an internet-based remote maintenance system. Each sensor node is geographically localized and identified by its unique ID. The on-line data of the power lines are used for optimizing of the capacity utilization of energy transport while guarantee hazard free operation. Currently the installation of a longtime field test line is ongoing in Thuringia.


Professor Thomas Gessner, director of Fraunhofer ENAS, and the Fraunhofer researcher Mario Baum present the system in the talk "Smart Power Grid Monitoring" during the Sensors Expo session "Power Management for Sensor Applications" on June 25, 2014.


Furthermore joint developments like inertial sensors and a tunable Fabry Pérot interferometer – common projects with the German companies GEMAC mbH and InfraTec GmbH – are exhibited. Moreover, the Center for Microtechnologies of TU Chemnitz presents MEMS technologies at the joint booth.