MIDARDI – for a better treatment of diabetic foot ulcer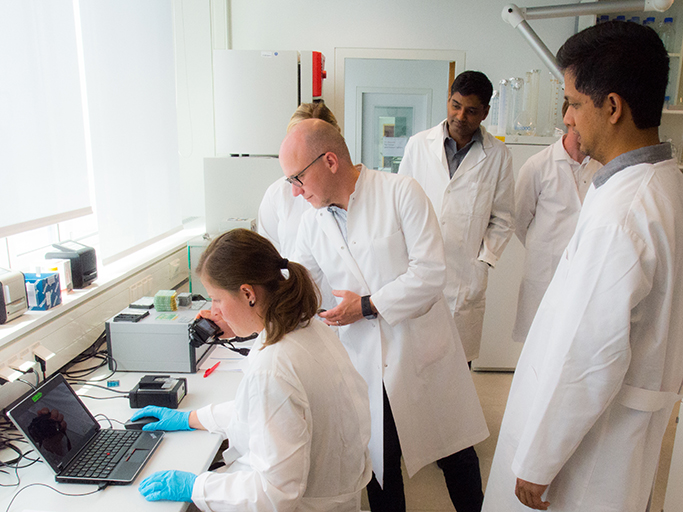 Microfluidic sample handling and tailored biotechnology are the key technologies for rapid and reliable pathogen detection at the point of care. Although test strip based detection of single pathogens is already available on the market, the technology is not suited for the analysis of complex pathogen populations such as wound fluids. In the project »Microfluidic Based Detection of Microbial Communities and Antibiotic Responses in the Management of Diabetic Foot Ulcers« (MIDARDI), Fraunhofer ENAS joined a team of German (Fraunhofer IZI-BB, BiFlow Systems GmbH) and Indian (Manipal University, Achira Labs) experts. The goal of the project is a point of care test for pathogenic species in wounds and the analysis of their antibiotic resistance, in order to start the targeted treatment rapidly. Fraunhofer ENAS main focus lies on the microfluidic sample preparation including DNA amplification, DNA digestion and DNA hybridization.
Background of the project is the steadily increasing numbers of obesity and type 2 diabetes in India and Europe. Increased insensibility comes along with neuropathy as a symptom of the target diseases. The patients often develop wounds with distorted healing at their feet, which need immediate treatment. Since traditional analysis methods can take several days, there is a strong need for a rapid test. Such a tool not only needs to be fast but needs to show the dominant pathogen cultures as wells as their antibiotic resistance profile.

The consortium is funded by the BMBF and the Indo-German Science and Technology Centre (IGSTC).