Sensor system for hemodynamic controlling developed within the lighthouse project »Theranostic Implants« of Fraunhofer-Gesellschaft.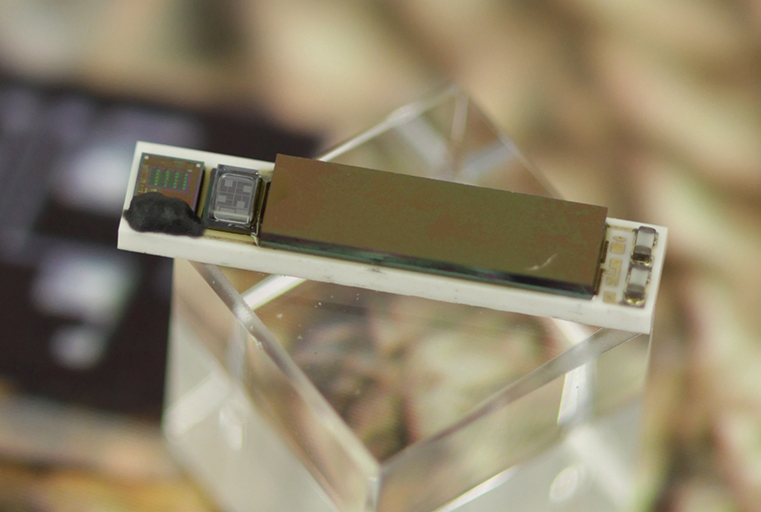 Within the Fraunhofer Lighthouse Project »Theranostic Implants«, technologies for future implants were developed. Theranostic, an artificial word, means the combining diagnostic and therapeutic features in a device, which measures and acts autonomously.
The overall system consists of a pressure sensor, an ASIC for data and energy management, an accelerometer for measuring the position of the patient and an interposer as a base, whereby the ASIC and the pressure sensor were developed by Fraunhofer IMS.
As a the base of the system, an LTCC interposer with 75 μm line/space and 13 layers in a stack, provided by NIKKO (Japan), contains a coil for inductive energy supply and data transmission. The ASIC and the MEMS accelerometer are mounted onto the interposer either by flip-chip bonding with gold stud bumps or by die attach and wire bonding. The buildup was investigated in regard to bond quality and voids with microcomputer tomography (Micro-CT) equipment and scanning acoustic microscopy (SAM).
Last but not least, an Al2O3/Parylene thin film multilayer approach has been used for biocompatible and hermetic encapsulation. Finally, the highly miniaturized system (length: 15 mm, diameter: 3 mm) will be tested for functional operation after silicone encapsulation together with Fraunhofer IMS.