Quantum Dot-based light emitting diodes on textiles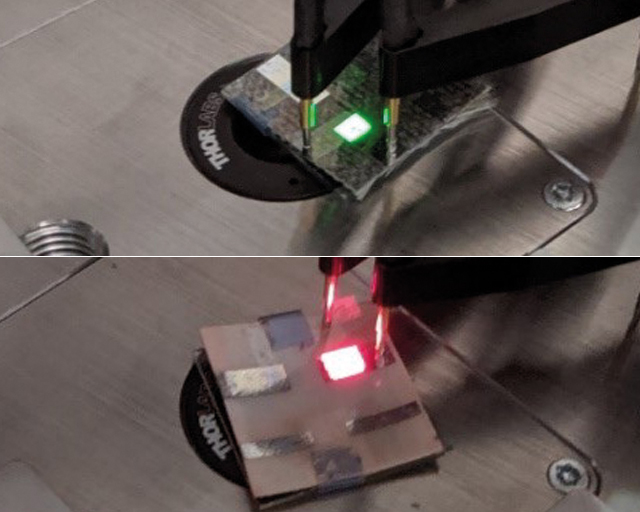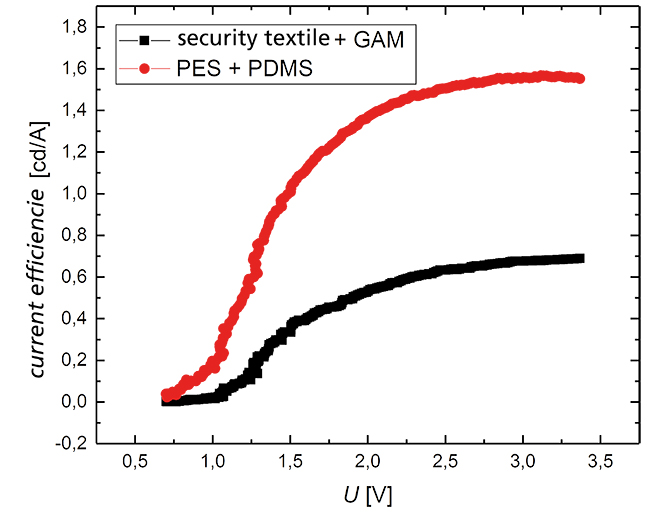 For many years, Fraunhofer ENAS has been investigating light-emitting diodes based on semiconductor nanocrystals, so-called quantum dots (QDs), for special applications. This includes the use of their distinctive light for sensors (e.g. spectroscopy or distance detection) and the preparation on special substrates. A large number of technologies are available for this preparation at Fraunhofer ENAS. By combining both, solvent and gas phase-based application methods under an inert gas atmosphere, rigid substrates such as glass or flexible substrates such as PET foils can be coated with QD LEDs.
Applying these technologies, it was possible to produce the first laboratory samples of QD LEDs on textile substrates. Planarization using Parylene C has succeeded in reducing the roughness of the surface of the textile from 140 nm to 20 nm by filling in the unevenness as well as preventing the solvent from being absorbed into the textile. The QD LEDs were applied with an inverse »top-emitting« structure to make the light clearly visible from the outside. This could find numerous new application in the future, e.g. for better visibility of safety clothing or ambient lighting in the car interior.