In situ plasma diagnostics for 7° nm etching processes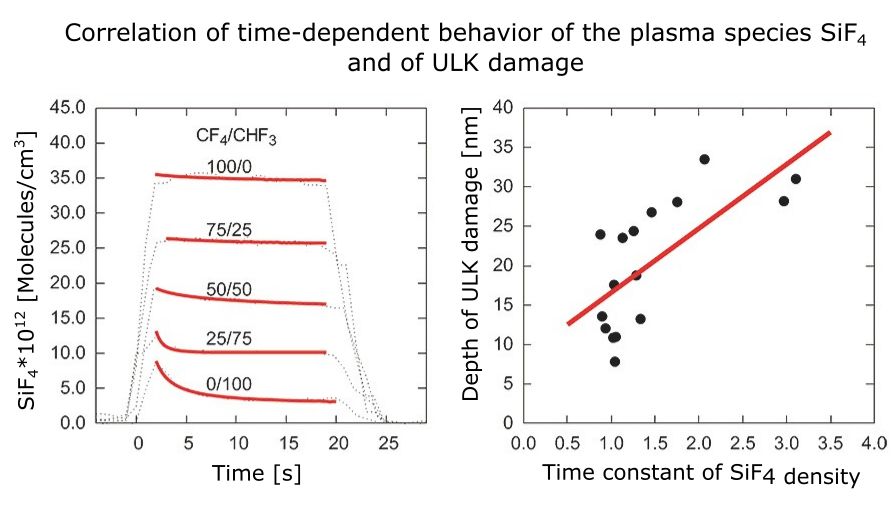 For a defined control of plasma parameters, alternative in situ techniques with a high degree of sensitivity for industrial usage are being tested and established at Fraunhofer ENAS. Quantum cascade laser absorption spectroscopy (QCLAS) is used to determine chemical and physical properties of molecular etching plasmas. The method provides direct access to e.g. the concentration and temperature of various process-relevant plasma species.
As an example, plasma induced damage of ultra low-k materials (porous materials with a very low dielectric constant) during dry etching were analyzed by QCLAS. The parameters measured during plasma treatment were correlated with the degradation of the etched samples, where a relation between the plasma species SiF4 and the damaged ULK material (sidewall) was found by means of multivariable data analysis. Thus, it could be shown that by measuring plasma species concentrations, the polymerization on surfaces can be observed during the process directly. Furthermore, a correlation between the radical temperature in the plasma chamber and the sidewall-degradation of structured substrates was found.
Project: SeNaTe funded under H2020-EU.2.1.1.7., Grant agreement ID: 662338