Automated virtual prototyping of reconfigured FOWLP wafers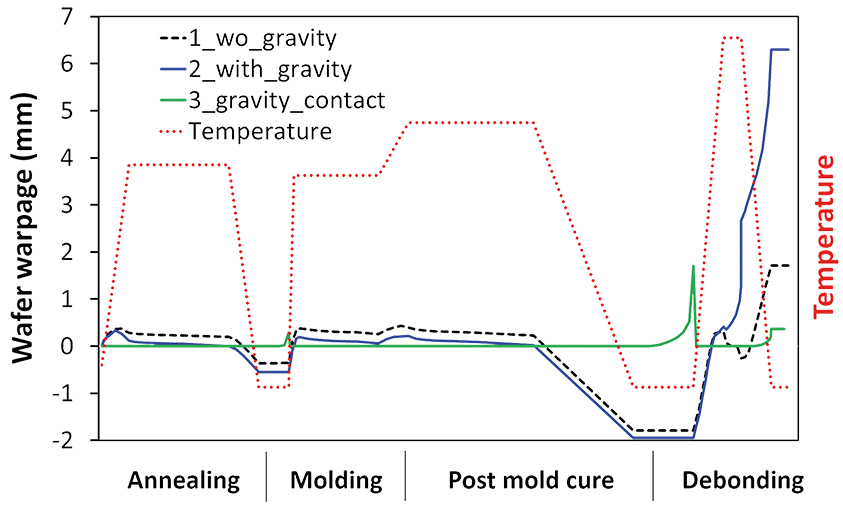 Fan-out wafer-level packaging (FOWLP) technologies are getting significant attention for the heterogeneous system integration. One of the challenges is excessive wafer warpage, while going through fabrication process steps such as molding, debonding, RDL processes and grinding. For FOWLP packaging, wafer warpage study is crucial to keep the warpage within defined ranges to complete all processes successfully.

In the EuroPAT-MASiP project, analytically calculated wafer deformations for mold/Si structure are validated by simulation which is used to study the reconstituted wafer warpage having mold and dies. Simulating the dependence of the wafer warpage on overmold thickness, bifurcation is found where the shape of warpage changes from spherical to cylindrical at wafer cooling from 150 °C to 25 °C. This bifurcation region can further guide to design optimum wafer maps and process flows that avoid excessive wafer warpage. The influence of gravity is simulated for different 12'' wafer structures e.g. only EMC wafer, mold/Si wafer and reconstituted wafer. Finally, FOWLP process induced warpage is analyzed by FE analysis considering geometrical nonlinearity, gravity and ground support modelled by contact elements.