Aluminum nitride piezoelectric micromachined ultrasonic transducers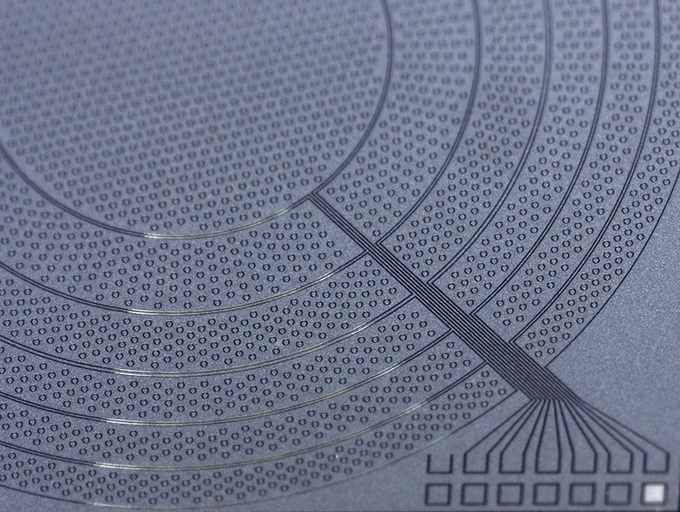 Ultrasonic devices with high working frequency can achieve a high resolution. These devices allow precise imaging applications such as fingerprint sensors or medical imaging of tissues. A radial sensor array enables future beam steering applications. Focusable ultrasonic devices allow high acoustic energy on a small area with high resolution. Consequently, a very good signal-to-noise ratio and a high resolution can be achieved. Furthermore, acoustic manipulation can be realized, e.g. heating of tissue for medical treatment or single micro and nano particle transport and activation. Additionally, the miniaturization of the micro technologies allows new applications, such as endoscopic medical treatments and low-cost integration in consumer, automotive and industrial devices. Piezoelectric micromachined ultrasonic transducers (PMUTs) can be designed to be very small with very high working frequencies. Therefore, PMUTs have advantages compared to bulk technology ultrasonic transducers. Additionally, the arrangement of the single ultrasonic elements by micro technology has a large degree of freedom. For example, the array design is not limited by linear dicing lines, which are commonly used for bulk ultrasonic transducers.
Fraunhofer ENAS in cooperation with the Center for Microtechnologies of the Chemnitz University of Technology developed a new design for radial focusable PMUTs with high frequencies in the MHz-range. The Aluminum Nitride (AlN) based technology allows the more than 4000 membranes to perform high deflections. Due to the very homogeneous manufacturing processes, the technology tolerances could be minimized, which means that the more than 4000 individual structures can be reliably controlled in parallel.